Ah, airline elite status. It's the holy grail for many a traveler – both because of the crazy awesome perks it conveys, and because it carries a significant "cool" factor for travel geeks.
In this post, I'm going to tell you how to earn elite status without flying every day, and without having a job that involves regular business travel.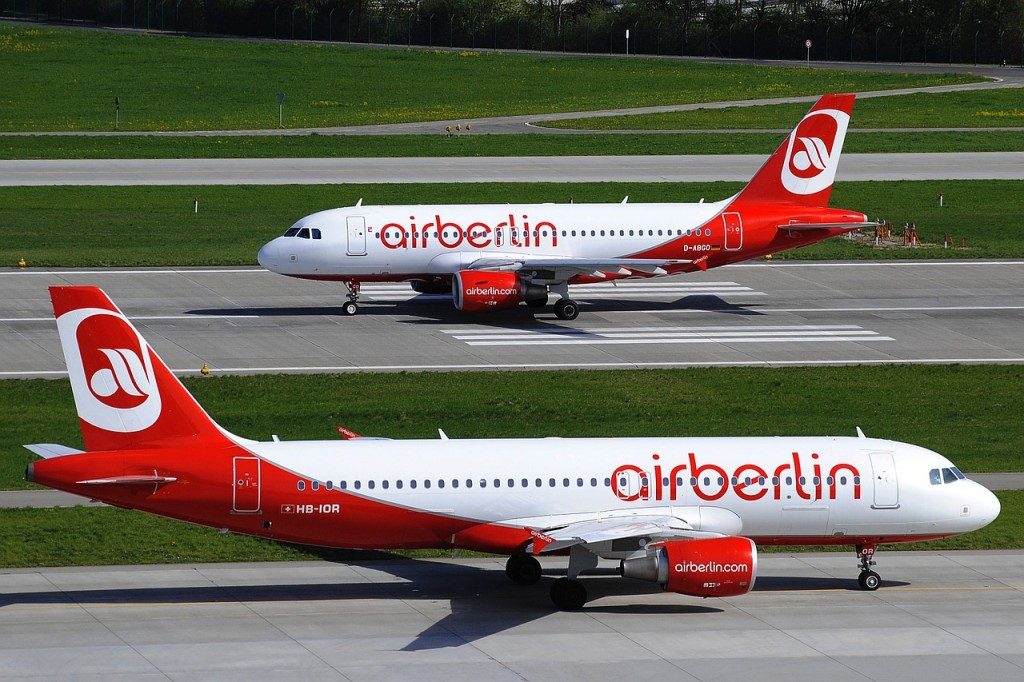 Those who hold elite status through an airline's frequent flyer program are subject to privileges that can really make the (usually) uncomfortable process of flying way more tolerable – or even downright luxurious. We're talking:
getting to board the plane before all the other plebes
access to clubs and lounges in the airport
free upgrades to business class and/or first class
discounted upgrades to first class and/or business class
bonus multipliers on the miles you earn while flying, so you earn free trips faster
(That last one is especially important – I'll explain why later on.)
The problem is, airlines know just how sought after elite status is, so they have no shame about making it exceptionally difficult to earn enough miles to qualify for gold, platinum, or executive platinum status.*
The conventional wisdom in the travel community says that you have to fly every week, or at least a few times a month, to be able to accumulate enough points or miles to qualify for frequent flyer status.
This essentially limits the upper tiers of elite status to two types of travelers:
Those who have a job that requires them to fly more than three or four times a month while their company picks up the cost of airfare, or
Those who are already wealthy and can afford to travel frequently for fun.
The rest of us are made to stand in agonizing lines at the departure gate, staring wistfully at the privileged 1% who are escorted straight to first class, champagne already waiting for them, while we ourselves are shuffled ignominiously to our seats in steerage coach.
But here's the secret: you don't need to have a job that sends you on flights all the time just achieve elite status and start earning upgrades and other rewards. You can attain status without flying for every day. I'm also going to show you how to do it without having a high-net-worth, high-fee MasterCard black card, or anything crazy like that. Finally, I'll be avoiding niche airlines like Southwest that don't have robust awards programs or as many hub airports, instead focusing on the elite airways like American and Delta.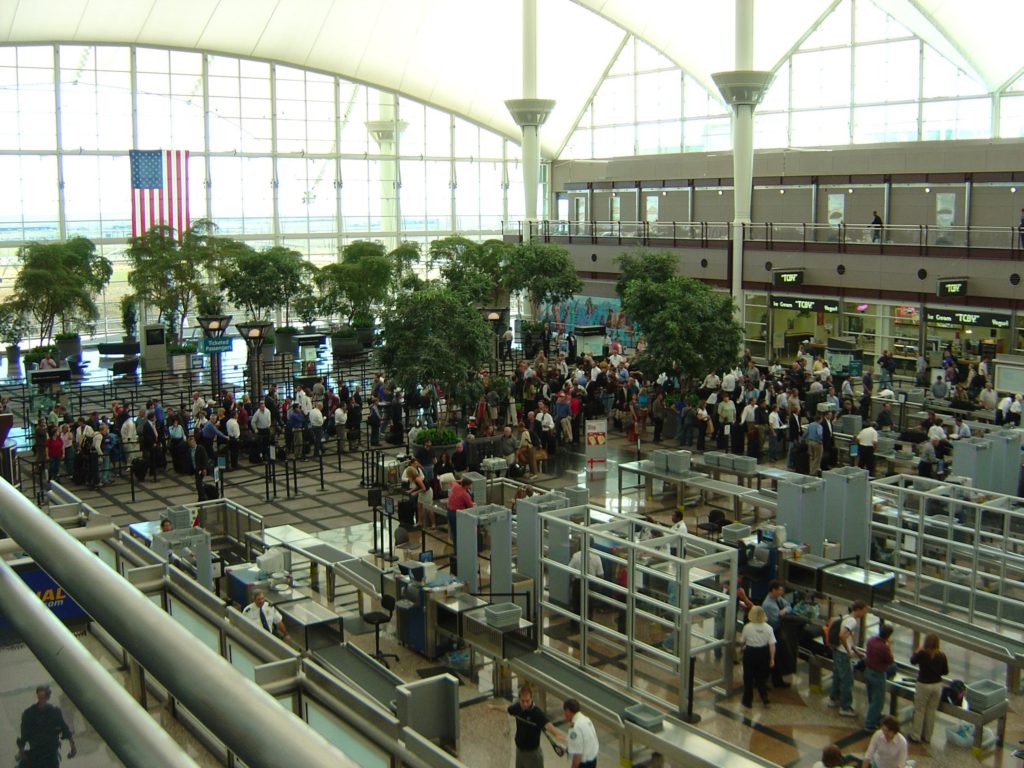 Here's the short version of the strategy: fly as much as your calendar and bank account will allow for one year and put all the airfare (plus as many expenses as possible) through your rewards credit card. Then, do the same thing for another year, but this time use the points you accumulated on your credit card in year one to subsidize everything and fly even more.
That may sound confusing – don't worry, I'm going to elaborate on every step below. This is going to be a long post, so pour a cup of coffee and settle in. You're beginning a new chapter of your life as a bonafide Frequent Flyer.
Here are the steps you need to take to get frequent flyer status:
Have serious wanderlust.
Pick a single airline rewards program and start flying only with them.
Understand the difference between award miles and qualifying miles.
Sign up for one of two specific rewards credit cards.
Plan to spend two years accumulating points.
Fly, fly, and fly some more.
Book weekend trips in between vacations; choose layovers over direct flights.
Use your credit card points to book qualifying-mile-eligible flights.
Repeat steps 1, 6 and 8.
I'll elaborate on each step below.
STEP ONE: Have wanderlust.
Yes, I know that sounds trite. But I mean it. In order to achieve executive status for the minimum amount of time/money required, you have to be willing to spend some extra weekends and a lot of your vacation days traveling. With this plan, you're going to be doing some long-haul flights to distant destinations in a single weekend, so you need to be ok with the idea of traveling for traveling's sake.
You're also likely going to be doing a lot of solo travel, since it's going to be hard to find a buddy to agree to a rigorous itinerary of frequent flight.
Actually, it's easier than ever before to enjoy time spent in an airport and even have your own little mini-vacation without leaving the terminal. The prevalence of public wi-fi, fine dining options, spas, gyms, and even sleeping pods should help you breathe new life into that tired old "journey is the destination" saying.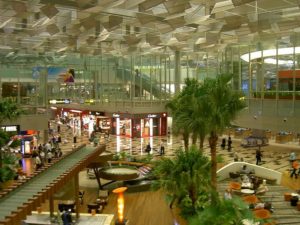 So, before you read any further, decide if you're really ok with saying "no" to normal, non-flight vacations with family and friends for a little while, while you fulfill your airborne pilgrimage to frequent flyer mecca.
Once you've done that, read on.
STEP TWO: Pick ONE airline and stick with it.
Pick a single airline, sign up for their rewards program, and make it a rule to never, ever, ever set foot on a plane operated by another airline.
Actually, it's not that restrictive – what you really need to do is choose between one of the two major airline alliances: oneworld and Star Alliance. These are partnerships of many different airlines who have gotten together and agreed to share frequent flyer programs. Generally speaking, the status you earn with one airline will be recognized by the other airlines in the alliance, and you can earn points for your mileage account by flying on any airline that is a member of the alliance.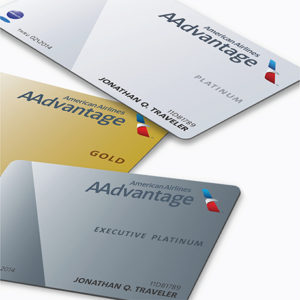 So, for example: Let's say I'm a member of American Airlines' frequent flyer program (which they call AAdvantage). I take a flight worth 5,000 miles on an American Airlines plane. My mileage balance is 5,000.
The next week, I decide to book a flight on Qantas worth 2,000 miles. Qantas and American are both members of the oneworld alliance, so the Qantas miles I earned are recognized by American, and my AAdvantage account is now at 7,000 miles.
The following week, I screw up and book a flight on United worth 1,000 miles. United belongs to Star Alliance, not oneworld. So those miles don't get added to my balance, and I'm still at 7,000 in AAdvantage.
Sure, you could join the rewards programs for both the major alliances, plus independent airlines like JetBlue and Virgin. But then you'd be earning points in several different buckets – that is not conducive to your goal of achieving elite status as fast as possible.
Since we're not flying every day for work, we need to maximize the miles value of every flight we take, and that means putting all our eggs into one basket.
NOTE: Be prepared to pay marginally more for a given flight in order to make sure you fly on your chosen airline. If you go on Booking.com and look for a flight to Jamaica, you may see that United has it for $250 while American wants you to pay $275. Bite the bullet and buy the American flight. Consolidating miles into a single program is the best/fastest/easiest path to elite status, which will save you money in the long run.
BONUS TIP: Pick an airline with a hub airport near you.
Different airlines have more flights and more fleet based at some airports than others. For example – Philadelphia International, which is just a few minutes from my home, is a hub for American Airlines. That means there are more flights to more destinations from Philly on American than there are at, say, Newark International. So I subscribe to American/oneworld's rewards program. If I lived near Newark, which is a hub for United, I'd subscribe to United/Star Alliance.
STEP THREE: Understand the difference between award miles and qualifying miles.
If I open up my American Airlines AAdvantage app, I see two items here that both say "miles": "Available award miles" and "Miles (EQM)".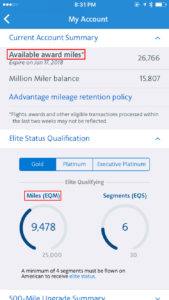 Award miles are earned many ways: through purchases on AA branded credit cards, through buying items on the airline's e-shopping portal, through flying on AA flights, etc. These miles are, as the name would imply, used to book award travel.
The EQM Miles are what are known as "qualifying miles". American calls them "Elite Qualifying Miles" – thus, EQMs. Other airlines have other names. But they are all versions of qualifying miles.
These miles are only earned through actual "butt-in-the-seat" air travel**. These are the miles that determine whether or not you get elite status.
Why is this distinction important? Because in order to get elite status, you need to focus on your number of qualifying miles. This is the metric airlines use to determine when you've reached elite level.
You also need to know that, for the most part, flights you book using the award miles do not, in turn, provide you with qualifying miles.
It'd be nice if they did – you could buy enough flights to earn status, then use the award miles earned through those flights to book more flights that in turn sustain your qualifying miles balance, and so on, and so on, and so on into infinity, holding your elite status forever.
But alas – it don't work like that. You need to find away around this obstacle. You need to find a way to turn your ticket purchases into a source of miles you can turn around and book more flights with. In short: you need to use a credit card with a good rewards system. Proceed to the next step.
STEP FOUR: Sign up for one of these two rewards credit cards.
There is approximately one cubic shit-ton of airline rewards cards out there. The debate over which is the best is a subject of much impassioned debate. However, we aren't concerned with that. We are asking a much simpler question: which credit card is best for someone who is just starting out on their mileage-earning journey?
The short answer is: Barclaycard Arrival Plus World Elite MasterCard if you're rich; CapitalOne VentureOne Rewards Visa if you're not rich.
Why the VentureOne Visa and/or the World Elite MasterCard? Here's the long answer.
Here's the short version (yes, this is actually the short version): these cards both have a "purchase eraser" feature, whereby you pay for a flight with your credit card, as you would normally, then use your points accumulated on the card to "erase" the purchase. The airline treats you as a normal purchaser (because, to them, you are! You paid cash, just line everyone else) and still awards you those precious qualifying miles for your flight. You also bank some nice award miles as well. But, you erased your purchase using credit card points, so your flight costs $0. Very nice.
Once you have one of these cards, book all your travel through them to start earning points. That's essentially how you get around the airline's system of not awarding you qualifying miles for flights you book with award miles.
Also, if you can do so responsibly and without racking up untenable credit card debt, start routing all your personal purchases through this credit card. Skip cash-only merchants in favor of places you can use your credit card. This ain't the "patronize your local mom-n-pop" blog; this is the frequent flyer blog, after all.
Buy all your clothes online. You should be doing this anyway, since you can get them much cheaper and take advantage of things like home try-on for free.
These days you can even buy your groceries online.
Between your cable bill, car insurance, student loans, etc., you probably have a ton of capital moving through your debit account every month that could be earning you points. To quote TZA's patron saint Ryan Bingham: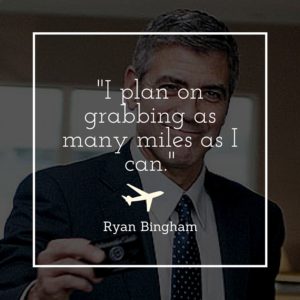 STEP FIVE: Plan to spend two years flying as much as you can.
This isn't about the short game – this is about the long con.
You're going to need at least two years of flying every chance you get – weekends, vacations, solo trips, etc. – to cement your elite status and make sure you can sustain it for many years to come. Here's why:
– The first year, you're going to be flying as much as possible, using all your vacation days and many of your holiday weekends and regular weekends flying to places just for the sake of flying to them. This banks you lots of qualifying miles from flying, and lots of credit card points from flying AND making those other purchases.
– The second year, after you've earned an introductory level of elite status, you're still going to be flying as much as possible. But this time, you'll be using your CapitalOne points accumulated during your first year to subsidize your travel and increase the number of flights you can afford.
I know, two years is a long time. But consider this: the more you fly, the more free flights in Business and/or First class you're going to get – even if you ditch your elite status later on.
See, most elite status programs provide a mileage multiplier for elite status holders. This means that, in addition to the miles you earn based on the distance and fare price of your flight, you'll earn an additional number of award miles that are just gravy.
For example: if you have Gold status in American's Advantage program (the lowest level of status) you will earn a 25% miles multiplier for every flight flown. That 5,000 award mile flight you flew last year? It will now net you 6,250 award miles. That's 1,250 free award miles in your account, ready to be used to book award travel.

So, let's say you follow my plan and earn a top tier status level that pays a whopping 100% mileage bonus. That means you'll have a ton of award miles in your account. Even if you stopped paying for flights after two years of chasing miles, you'd still have a year or more's worth of free luxury travel ahead you.
It'd be ideal if you could use these award miles that you're storing up to pay for flights that in turn earn even more miles thanks to a 25% / 50% / 100% bonus, and just keep snowballing your mileage account and elite status ad infinitum.
Unfortunately, as we've discussed, most airlines don't give you miles for flights you've purchased using award miles. There is one important exception to this rule.
If you decide to use Delta and their SkyMiles program as your frequent flyer program of choice, you can use your accumulated award miles to pay for flights that, in turn, earn qualifying miles. Delta calls this their "Pay With Miles" option. It's a relatively new feature, unveiled in 2015. The Points Guy has an excellent blog with details on how to do this.
To me, that perk is still not enough to justify using SkyMiles as my primary frequent flyer program, when I live right next to an American Airlines hub. But your situation might be different.
Why do I focus on a two year timeframe? Why not three or four or five? The answer is a little confusing for those who are new to this culture, so feel free to skip this long-winded explanation. But if you're interested: I pick two years because in your first year, you will earn as many qualifying miles as you can from flights you can afford, whilst banking the credit card points spend on those flights plus your other purchases (call this your Total Flight Capacity minus CC Points).
At the end of your second year, you'll have the qualifying miles gained from all the flights you can afford, PLUS the flights you can afford now that you've been banking credit card points for a year (Total Flight Capacity plus CC Points). In most cases, airlines will reset your qualifying mileage balance after about a year. Status you earned that year will continue until a year from the day that you earned, so you don't get shortchanged on the time you occupy a status level; but you have start earning qualifying miles all over again.
So your Total Flight Capacity plus CC Points is, in reality, your total qualifying point earning potential unless you change jobs/get more income/devote more income to flying/some other big sea change.
If this is confusing, don't worry about the fine details. Just start flying as much as you can for as cheap as you can, and put as many of your regular expenses through your rewards card as possible. Which brings us to step six:
STEP SIX: Fly, fly, and fly some more.
Fly. Fly on weekends. Book a cross country flight that departs as soon as you can get to the airport after work ends on Friday and returns with just enough time on Sunday night so you can make it to the office on Monday morning. Take a sick day and book a one-day flight. Fly that shorthaul to Thanksgiving at your in-laws who only live two states away. Fly. Fly. Fly some more.
Gaining elite status is about more than just free beer in the airport lounge. It's really about a personal statement that values travel and global connectedness. I won't waste time talking through the inspiration behind travel obsession – but suffice it to say that you need to dispense with the popular notion that flying is just a means to an end.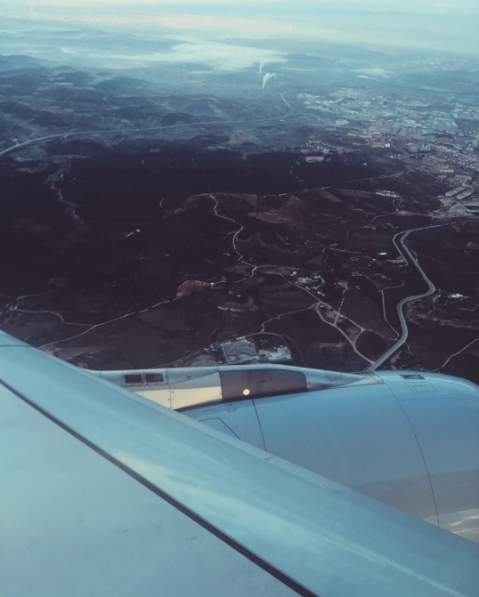 There's a reason companies go so far out of their way to offer incentive programs that make travel more comfortable: it's because most people hate travel; they like reaching the destination. There's a big difference.
People whose jobs require that they travel every week will hit their miles goals without making an extraordinary effort to get their butt in a plane as often as possible. If you're reading this post, you do need to make that extraordinary effort. You can still hit your status goal without traveling every week; but you will have to travel a lot of weeks regardless.
Don't worry. In years two and three and four of your journey, when you're reaping the benefits of the investment you made in being a travel junkie, the rush of constant connectedness will make it all worth it. I promise.
The next two steps offer some more guidance on how to increase your travel amount at a minimum of cost.
STEP SEVEN: Book weekend trips in between vacations.
You have to get cool with the idea of flying to some faraway destination, spending a few hours on site, then hopping right back on a plane.
There is even a special, informal club of travelers who will fly someplace just to hang in the terminal for a little bit before flying right home again, same day. Most of the time this is done as part of something called a "mileage run", and the structure of the mileage run has changed significantly in recent years, so this is less common. But it's a necessary for move for those of us chasing elite status, since some airlines still award you qualifying miles based on the length of your flight, not the cost of your ticket.
In other words: if you're chasing elite status, it behooves you to still find the cheapest possible flight for the longest possible flight. Put another way, it's good to find the lowest cost-per-mile (CPM) for any given itinerary.
In the same way that some people do quick weekend road trips, you should plan to do a few of those on a plane in the upcoming year.
Open up Google flights and find a weekend coming up that doesn't fall on a major holiday, so you can avoid paying extra for peak flight times. Pick a weekend at least 70 days in the future, so you can get the cheapest fare. And, since the locations are arbitrary, choose a destination that is on a major flight route from the airport you'll be departing from.
Tons of airports fly to locations that are both far enough to earn you significant mileage, but low-cost enough to net you a sick cost-per-mile rate. Follow my guide to finding cheap flights for more info. Then book a weekend trip you won't have to waste any of your precious vacation days on. Boom: more miles for you.
Here's an example: I want to do a trip from Philadelphia (PHL) on American Airlines. A quick Google search tells me that Phoenix, which was a hub for the now-defunct US Airways, is a hub for AA. (Here's a handy Wikipedia page you can use to find which airports are hubs for which airlines; it even has international airports).
So, I open up Google Flights and plug in my airports. I set my Airline tab to show only oneworld flights, since that's my frequent flyer program of choice.
I see that tickets for PHL-PHX are going for around $500 on the day of my search. However, in a couple months, one-way tickets will be sub-$250.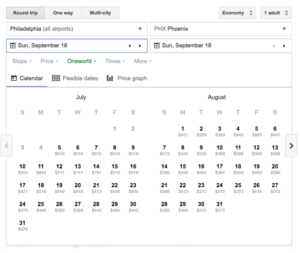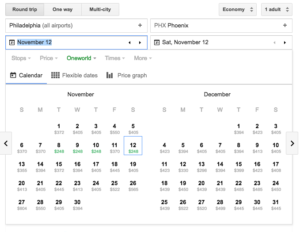 I snag a Saturday departure for $248 and proceed to the next screen. I see that I can fly out on Saturday, land in Phoenix, leave two hours later, and be back in Philly by early Sunday morning. I can even snag some shuteye on the plane back and layover in Denver so I get a longer total trip.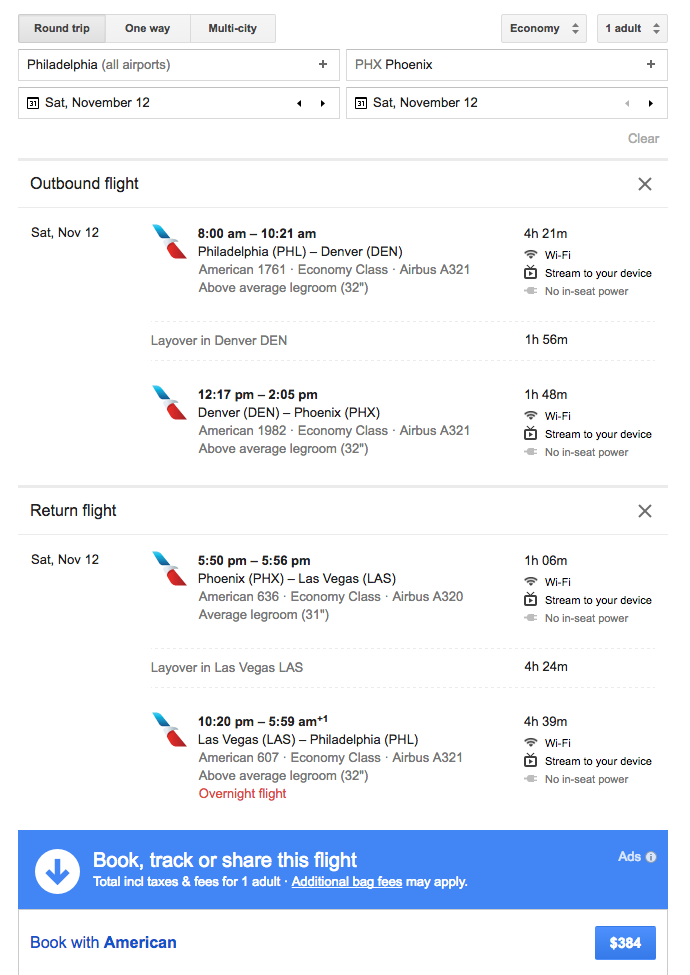 The total cost of the round-trip ticket is $384. If I book with American and get a standard fare code, rather than through a third-party discount site, American will pay out 1.5 qualifying miles per actual mile flown, according to their latest chart:

Calculating the miles using this convenient mileage calculator, I see that I stand to earn 12,960 qualifying miles. That not bad – it's just about halfway towards American's first status level, Gold***. When you consider that the total CPM of this ticket is about 4 cents per mile, you see it's a pretty good option.
A couple of these and you've already hit your first status level.
Of course, this is far from the best possible deal you could book on any given day. There are a number of things to consider when looking for low CPM flights.
Put a lot of time into flight searches. Set up alerts on sites like Kayak and Priceline. Follow TZA on Twitter, where I aggregate lots of good flight deals. Searching for the best value flights on your chosen airlines is an art form you'll master over time, not something you'll nail down in a day. Fortunately, like I said before – you're in this for the long haul, not the instant payoff.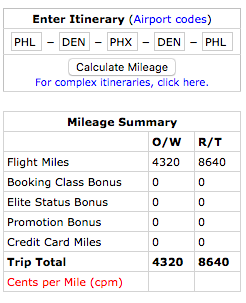 STEP EIGHT: Use your credit card points to book qualifying-mile-eligible flights.
Book that awesome flight you just found using your rewards credit card. Erase the cost of the flight using your purchase eraser.
STEP NINE: Repeat steps 1, 6 and 9.
Wash, rinse, repeat. As we've already discussed, it's going to take two years of flying as much as you can to make this work. But when it does, the benefits are immense, and you will end up earning free trips in premium cabins at a rate way faster than if you only ever flew once or twice a year when you took a big vacation.
Having elite status has become even more important in 2016, after all major airlines have undertaken significant devaluations to their award miles programs. To make a long, complicated subject very simple: airlines now assign you award miles based on how much you spend for a given ticket, not how much you fly.
This means that bargain hunters looking for long flights at cheap prices will be earning many fewer awards miles than they would have before. One way to make up for this devaluation is to hold elite status; as you can see from the AA chart above, an Executive Platinum status member will earn 8x as many award miles for a flight than will a non-status holder. The Executive Platinum member will thus be earning free flights at a rate 8 times faster than the general public. And, since AA offers complimentary Business / First class upgrades for Executive Platinum holders, he'll be doing it in style.
This is not an easy path to tread, nor is it one that many people choose. Most people would rather take their leisure time and expendable income and buy a TV, eat extravagant meals, or invest in a luxury car.
Choosing to prioritize the number of miles you fly in a year is a statement that you're willing to forgo the usual trappings of comfort in favor of a more nomadic lifestyle. It's not for everyone. But it's definitely for me, and it might be for you, too.
*Different airlines have different names to refer to the tiers of elite status they offer. They're usually some chintzy riff on gemstones or precious metals: gold, platinum, diamond elite, super duper sapphire, and what have you.
**Technically, there are a few other ways to earn elite qualifying miles. You could sign up for a special credit card that dishes out elite qualifying miles in place of or in addition to award miles, for example. But by and large, elite qualifying miles are earned by actually being on the plane.
***Although you'll need to fly at least four times on American to earn status. But that won't be hard considering how much you'll be flying in any given year.