I recently flew Delta Airlines' Comfort Plus ("Comfort+") class from Amsterdam to JFK International. Here's what I learned about this "premium economy" offering.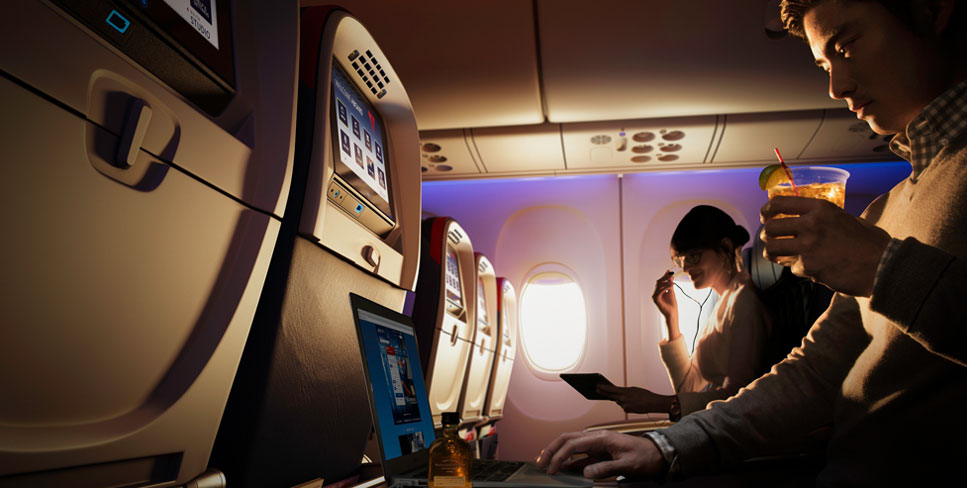 My Delta Comfort+ Review
Comfort+ is Delta's version of a "premium economy" class: a type of upgraded seating that falls somewhere in between basic Coach and Business Class. It's becoming more and more popular among major airlines, with American Airlines, United, and Virgin all offering their own versions.
These seats are usually in the same physical cabin as the regular coach seats, but offer some combination of larger seats, expanded leg room, free drink service, and even priority boarding assignments and dedicated overhead space.
My experience with Delta's Comfort Plus was on an Airbus A330-300 traveling from Amsterdam to JFK. It was the second leg of a return journey that began in Munich after an 11 day European vacation, so I was exhausted. The prospect of another 7 hours in a regular coach seat was pretty daunting at the time, so I was really interested to see how Delta's Comfort+ stacked up.
I wasn't disappointed.
What Are The Perks?
The precise perks you get from Delta Comfort+ can vary based on the length of your trip and the type of plane you're flying on.
Priority boarding 
Listed first because, for my money, this is far and away the best Comfort+ perk on offer. My boarding pass was stamped with the "Sky Priority" boarding zone. This is Delta's third tier of boarding priority and made me one of the first allowed to board the plane, just behind the first class flyers. This is huge. For contrast, American books its "Main Cabin Extra" premium economy flyers into Group 1 – the fifth overall tier of boarding priority.
Boarding zone may not seem like a huge deal – after all, everyone with a ticket is going to end up with a seat on the bird. But I happened to be rushing to make a 30 minute connection in Amsterdam International after my arriving flight was delayed. AMS is a notoriously crowded airport, and it lived up to that reputation on my trip. When I finally got to the gate, I was able to waltz past the long line of people waiting to board and jog right onto the gangplank. That was fantastic.
Free booze and snacks
I was on a transatlantic flight, so meal service already came standard for all passengers, including those in coach. However, Comfort+ flyers were treated to free beer and wine at every pass of the beverage cart. On domestic flights, when the only free drinks for economy flyers are water, coffee and soft drinks, the free booze could be a big draw.
We also received a hot towel service and extra snack/bottle of water before landing. The coach flyers seated behind me missed out on this perk.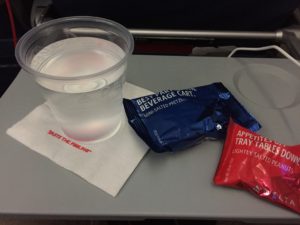 Dedicated overhead bin space
If you fly frequently enough, it's only a matter of time before you see a dispute over scant overhead bin space devolve into a full-blown turf war, complete with the requisite clawing, cursing and scratching. When space becomes tight, the flight attendants will often take baggage from the more crowded rows and distribute it throughout the cabin. So even if your immediate neighbors don't have a lot of baggage to fit into the overhead, you might still lose your spot if the rest of the plane is crowded.
Delta Comfort+ totally alleviates this hassle by giving you reserved overhead bin space. In addition to guaranteeing a spot for your bag, this perk saves you from having to stow your baggage in a different section of the plane if the bins directly above your seat are already full. That means you won't have to run all the way to the back of the plan to grab your bag when its time to disembark.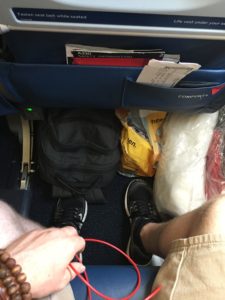 Extra legroom / more recline
Standing tall at 5″6, legroom typically isn't an issue for me. But Delta Comfort+ offers an extra 4 inches of legroom. I certainly didn't mind this perk even though I am vertically challenged, since it meant extra space for my carry-on, my giant noise-cancelling headphones, my magazines, my laptop, etc. when I wasn't using them.
The real perk here, though, is the expanded recline.
Delta Comfort+ seats offer a wider degree of recline than the standard economy seats. What this actually means, at least on the Airbus A330-300, is that the seat actually slides forward as the seatback reclines backwards. So, when you push back, your butt slides forward at the same time, creating much more of a "lie-flat" experience than I've ever had in an economy class.
It. Was. Awesome.
Sure, it's nowhere near as good as a true lie-flat bed in First Class. But it made falling and staying asleep for the transatlantic flight much easier than my initial trip had been, flying regular economy on Delta partner Air France.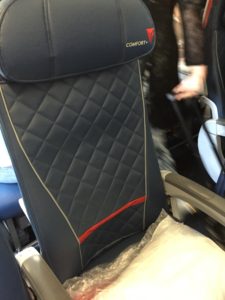 I actually lucked out and had an empty aisle seat next to me in my two-wide row, so I could have just laid across the two seats and had myself a nice little bed. But for the purposes of this review, I forced myself to sleep in a single seat for a few hours to gauge the comfort level. The things I put myself through for you people!
I was able to net a solid three hours of seldom-interrupted sleep thanks to the extra recline. I'm rarely able to sleep for that long without waking in economy, so I can only surmise that the upgraded recline (plus the blanket, pillow and amenity kit – other Comfort+ perks) is the cause.
Big caveat: if you're especially tall or wide, the Comfort+ seat probably won't strike you as a major upgrade over the basic offering. But for the average sized among us, it's a huge win.
Comfort+ extras: blanket and pillow, amenity kit, hot towel, power outlets
Several small touched went a long way to differentiating the Comfort+ experience from the regular economy one. We received a (very) basic amenity kit including a sleeping mask, ear plugs, toothbrush and toothpaste, and earbuds. In the age of Cole Haan designer amenity kits, these really weren't anything to write home about – but it was better than nothing.
On international flights like the one I took, economy flyers already get many more of these perks than domestic economy flyers. For example: on international flights, food and non-alcoholic drinks are usually free. Most airlines supply you with a blanket and pillow kit. On several newer aircraft, power outlets come standard at every seat.
According to Delta's website, Comfort+ makes many of these international flight perks standard for domestic customers.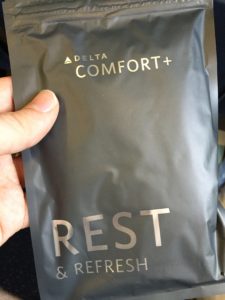 How Much Does Delta Premium Economy Cost?
I paid $99 to upgrade my basic economy seat to Comfort+ on a flight from Amsterdam to New York City. Between the priority boarding and upgraded seat recline, I thought it was worth every penny.
However, I booked my upgrade in May, just before Delta stopped allowing flyers to upgrade economy tickets to Comfort+.
Now, if you want the Comfort+ experience, you'll have to choose this as your cabin when you book your ticket. The price will scale up based on the base fare – just like a business or first class booking. According to some in the frequent flyer community, a Comfort+ ticket will run you an average of $30 – $100 based on the distance of your journey and other factors.
Summing Up: Is Delta's Comfort+ Worth The Price?
When Delta introduced Comfort+, it was generally regarded as a nice way to upgrade your economy ticket for a slightly more luxurious experience, without splashing the cash for a full-on new cabin. But Comfort+ is far and away the most full-featured premium economy seat of any of the major US-based airlines. Just look at the list of perks for American's analogous Main Cabin Extra: it's downright sparse in comparison.
As Ben Schlappig notes, this is because Delta is actually trying to make Comfort+ a whole new class of service, rather than a polished version of economy class. When other carriers like American follow suit, they may very well out-do Delta.
Case in point: In early 2017, American Airlines will be rolling out a premium economy offering on its 787 Dreamliner routes that looks like it might destroy the competition in terms of value and rewards. I mean, just look at those seats.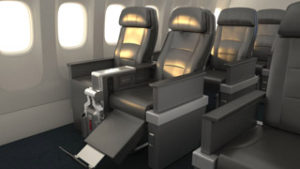 But for now, I think it's safe to award Delta's Comfort+ the title of Greatest Premium Economy Seat in the World.
Is it worth the cost? The answer is a qualified "yes". If you're paying cash for your ticket, then go ahead and pull the trigger on Comfort+. The added cost is usually between $20 and $75, which can be worth it if you're a stickler for legroom or are planning on a tight itinerary where expedited boarding could prove vital.
In fact, with the promise of dedicated overhead bin space, it could mean the difference between having to check a bag at the gate or not. I despise checking bags and will do anything to avoid it.
However, I don't think I'd ever use miles to upgrade into comfort plus. 5,000 miles for an upgraded ticket that's only worth $30 is a generally poor use of those miles.
---
Be sure to follow TZA on Twitter for flight deals, updates, and new post announcements.